$60 off Breville's SodaStream-killer will have you fizzing everything this summer
The brand-new Breville InFizz Fusion gets its first discount at Myer ahead of Black Friday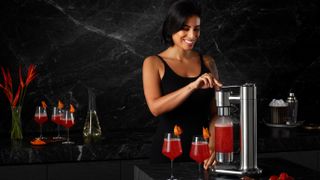 (Image credit: Breville)
[UPDATE (Nov 13): This offer has expired but we're hoping Breville will offer a discount again when its official Black Friday sales start, which means the InFizz Fusion will also be discounted at other retailers as well.]
The Breville InFizz Fusion was announced in October this year and it's already got its very first discount!
It's so new that you'd be forgiven for not having heard about it before. It's basically Breville's answer to SodaStream, but the InFizz Fusion is capable of carbonating practically any drinkable liquid... as long as it's cold or room temperature, of course.
And it's got its first discount, with Myer shaving $59.80 off its $299 RRP, with all three colourways available at the same discounted price of $239.20 each. If it's already getting a decent discount ahead of Black Friday, then perhaps it might see a bigger discount later this month, but I wouldn't hold my breath as it's such a new release.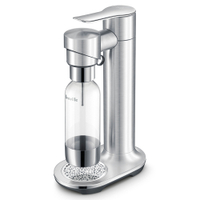 Breville InFizz Fusion | $299 $239.20 at Myer (save $59.80)
Breville's SodaStream alternative is a rather good-looking machine and it can fizz up a heck of a lot of drinkable liquids, from juices to wine. This allows you to make all sorts of cold beverages, including cocktails, and that's what gives it a leg-up over its competition. It's still more expensive than a SodaStream, but then it carbonates more than just water. Available in three colourways – Brushed Stainless Steel, Truffle Black and Sea Salt.
I'm in love with this machine! I'd used a SodaStream before and was enjoying getting creative by purchasing flavourings. But the Breville alternative is just so much more versatile.
I've waxed lyrical on how much I enjoyed the Breville InFizz Fusion when it was released, and I still stand by it today as it does more than make soda water. Sure, I still buy flavourings, but then I've been fizzing everything from store-bought and fresh juices, as well as cordial drinks.
I've made cocktails like Long Island Iced Tea by fizzing up cola-flavoured soda for it in the InFizz Fusion. I've carbonated white wine, rosé and some chilled red wines that are great for summer.
I grew up with a drink powder called Tang and I've carbonated the orange-flavoured one as well as the lemon pepper version that I found at my local Indian store, and they're both delicious with a little bit of fizz. Heck, I've even carbonated coconut water... something I wouldn't really recommend you do. Fizzing store-bought orange juice is also not that great, just saying.
Long story short, the Breville InFizz Fusion is versatile and its FusionCap keeps the fizz inside for a few days. The machine ships with a 1L plastic bottle, but you can purchase an extra one if you want – Myer also has a 2-pack of 1L bottles discounted by 20% to $39.96. In the box is also a long-handled bottle brush that's useful, as well as a sieve and a funnel, both of which I didn't think I'd need but actually did end up using a few times.
It's also a good-looking machine. Its carbonation lever reminds me of a kitchen sink tap but the whole aesthetic is open, sleek and modern. It would look good on any kitchen countertop or home bar.
It uses the standard 60L screw-type gas canister, so they're easy to find at several retailers and petrol stations. You can either refill these at petrol stations around the country or exchange for another cylinder.
If you enjoy hosting or love a cold drink, the Breville InFizz Fusion is a worthwhile investment, particularly when discounted.
Get the Getprice Newsletter
Sign up to the Getprice Australia newsletter to receive weekly info and alerts