Cost of living crisis: 5 everyday tricks to save money
Use these quick tips and techniques to beat rising prices.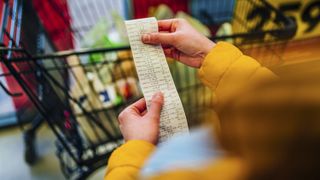 (Image credit: LordHenriVoton / Getty Images)
The constant rise in the cost of living has left many Aussies seeking effective ways to save money, especially when it comes to the services and products they use on a weekly basis.

Fortunately, there are practical tricks that can help alleviate some of the financial burden. In this article, we will explore five everyday strategies that can help you stretch your budget and navigate the current cost of living crisis so you can get more for your money.
1. Switch to cheaper mobile and broadband plans
One significant expense for many individuals is their mobile and broadband plans. Consider switching to one of the smaller SIM-only carriers for your mobile needs. These mobile virtual network operators, or MVNOs, typically offer more affordable plans than the big three (Telstra, Optus and Vodafone) but still use the same cellular networks. For a bit of direction, we've surveyed the current offerings to figure out what we think are the best 365-day prepaid plans and best month-to-month prepaid plans.
When it comes to broadband internet, we'd again advise avoiding the big-name providers and explore alternative options that offer cost-effective plans suited to your speed and data requirements. With most Australians now connecting to the internet via the NBN and providers simply reselling access, the playing field between small and large internet providers has arguably never been more level. Doing the research to find a reputable provider can save you hundreds over the course of the year.
2. Rotate your streaming subscriptions
With the abundance of streaming services available, subscriptions can quickly add up – but let's face it, how many TV series can you really watch at one time?
A practical way to save money is to sign up for one streaming service at a time and rotate between them every month or two. If you're paying month-to-month, there's no penalty for unsubscribing and resubscribing to more streaming sites, and this allows you to enjoy a variety of content without the burden of multiple subscription fees. By implementing this strategy, you can enjoy your favourite shows and movies, then make the switch to another streaming service, all while saving money.
Wondering what to subscribe to this month? We check the new releases on every major platform to come up with a new best streaming service recommendation every month.
3. Purchase pantry and other household items from Amazon
When it comes to grocery shopping, we've found that seeking alternatives to traditional supermarkets can lead to significant savings. To save money on your everyday essentials, for example, you could consider purchasing pantry, cleaning and other select household items from online retailers such as Amazon, which offers competitive prices on a wide range of products.
Getprice recently pitted Amazon vs Coles and Woolies by comparing a list of products you would commonly purchase in your local supermarket. We found that when buying from Amazon, our basket total for the same items was 30% less than buying from either Woolworths or Coles – a real-money saving of over $40. If used regularly, Amazon will likely also come in ahead on delivery costs vs those of the big supermarkets. That's due to Amazon's Prime subscription option, which for a flat monthly or yearly fee ($9.99 and $79 respectively) gives members free shipping on most orders. You can find grocery and other household items on Amazon in various categories, such as:
4. Buy refurbished instead of new
Opting for refurbished products can be a game-changer for your budget. Refurbished electronics, appliances and even furniture can offer substantial savings while still providing the quality you'd expect from a new product.
Refurbished products undergo rigorous testing and quality checks to ensure they meet specific manufacturer or retailer standards. By opting for refurbished items, you can access products at a fraction of the cost while reducing waste and contributing to a more sustainable lifestyle.

Getprice has put together a full guide with a list of refurbished retailers that regularly offer reconditioned products. From phones, to laptops, cameras and so much more, you'll also find big name brands such as Apple and Dell offering their range at substantially discounted prices through official refurbished programs, direct from the manufacturer.
5. Compare prices
Before making any significant purchase or signing up to a service, it's important to take the time to compare options and prices. There are dozens of comparison websites (including, of course, Getprice) that you can use to find the best deals on various products and services. Price comparison sites, in particular, let you compare products side by side to see who is offering the best deal at the time.
It's not just products where comparison can save you big, either. Using financial comparison tools (like those available on our sister site Mozo) you can compare things like home loan rates, energy, insurance and more – potentially finding you a better deal that could save you thousands on your key household expenses.
So whether you're shopping for electronics, whitegoods, or even insurance and home loans, these websites can help you identify affordable options and potential savings.
Small changes can add up to big savings
The cost of living crisis can be challenging, but implementing these everyday tricks can help alleviate some financial strain. By considering these tips, you could make significant strides toward saving money while still maintaining a good quality of life. Let's embrace these strategies and navigate the cost of living crisis with confidence and spend smarter.
Get the Getprice Newsletter
Sign up to the Getprice Australia newsletter to receive weekly info and alerts