Common retail scams: how to spot and avoid dodgy online products and sellers
It pays to be cautious when shopping online – here's what to look for to avoid retail scams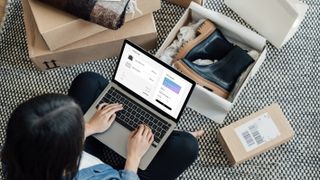 (Image credit: Getty Images - Oscar Wong)
We've all heard the horror story of an online purchase gone wrong. Maybe the dress wasn't what the picture showed, or perhaps a product just never showed up. Retail scams have been a common occurrence since the very beginning of online shopping, and in recent years scammers have gotten even sneakier when trying to rope you into buying a fraudulent product or service.
Retail scams not only run the risk of losing you money, but can potentially also be a way for bad actors to gain access to your private information. It's now more important than ever to keep an eye out for fake products, sellers and sites, and there's a variety of tricks that these scammers use that make it easy for even the most switched on of us to fall victim to a scam.
Thankfully, while some scams can be difficult to spot, once you know what to look out for, they're much easier to avoid. Here's a few things to keep an eye out for when purchasing products online (whether you're buying on a multi-seller marketplace or directly from a specific retailer) and how you can avoid falling for common online retail scams.
Is the price too good to be true?
One way scammers draw in unaware shoppers is by offering top products at extremely low prices on sites such as Amazon, eBay or other online multi-seller 'marketplace' sites. The unfortunate reality is that if it's too good to be true, it likely is. If you spot a high value product at an extremely low price, it's wise to check what other trusted retailers are offering it at, and if the original listing's price doesn't come close to those trusted sources, you might want to look into the seller further before making that purchase.
Some scam websites also hide the actual price of the product until you create an account or even make an initial payment. Be very careful of sites with listings like this, as even if you don't part with any money, scammers can still take advantage of your private information if you sign up for an account.
Another pricing scam involves the scammer claiming that the price of the product you're purchasing has changed in the time between adding it to your cart and completing the purchase. They might claim the exchange rate has changed in that time if you're making an overseas purchase, and that you owe them more money than what you originally paid. If you get a response from a seller saying that you owe them more money, rethink that purchase and take a closer look at the website or listing to verify its authenticity.
You're limited by how to make a purchase
In some instances, scammers might request you pay for your purchase through unorthodox methods, such as to multiple PayID accounts, or only by using prepaid cards. If the seller doesn't offer you traditional payment methods that have buyer protection, that's a huge red flag.
When you can, if you're making any purchase online, use a service that offers some form of buyer protection, like PayPal, or with a credit card so that if you have been scammed, you can raise your concerns with the card issuer and hopefully recover any lost funds.
If you are sending money through direct debit or PayID, pay attention to where it is going. If the accounts linked to the payment methods don't match the seller, that's another red flag, especially if they're a retailer. This is most likely to happen on places like Gumtree or Facebook Marketplace, where the scammer poses as someone trying to sell a product secondhand, but can also happen through fake websites where the name of the business does not match the name of where your money is being sent. If you're suspicious, don't make the purchase unless you can verify where your money is going.
Watch out for fake pictures and reviews
It's really simple to fake things online, and scammers do exactly this by setting up listings that make use of pictures or reviews that don't accurately represent the product they're supposedly selling. These can be tricky to spot, but if you're already suspicious of a product listing, double checking reviews and product photos can help to either verify the product or prove your suspicions.
One common way scammers do this is by using pictures from reputable websites on these false listings. In some cases, these products will have watermarks or key identifiers like branding and logos for the original seller's site, but if you're not sure, you can do a reverse image search with tools such as TinEye to find the origins of the product to help verify whether the listing is real or not.
Additionally, scammers can fake reviews for both individual products and even whole third-party seller's stores on online marketplaces, so make sure to check all the reviews for both the product you're purchasing and the retailer. Checking the negative reviews, in particular, can be a great way of finding prior customers who've been scammed and are looking to warn others. If you're shopping on sites like Amazon or eBay, you can get an extension for your web browser through Fakespot that will check product reviews and alert you to any fraudulent ones. If you don't want to install an extension, you can chuck in the URL directly on the Fakespot website to see how the product listing or seller rates overall.
Double check website domains, third-party sellers and email addresses
Some scammers will create copies of well-known retailer websites to trick shoppers into thinking they're buying the real deal. These can be really hard to spot, as they essentially create an identical-looking clone of the original website, but there are ways you can verify the URL of the site you're suspicious about.
Reputable retailers will have very specific website domains, so if you've reached a website from an ad on social media or via an email, do a Google search for the official page and take a look at the two URLs. You can also use ICANN Lookup to check when a domain of a website was registered, and if it's very recent, that's a good indicator that it's a fake site.
You should also look to ensure that any site you plan to make a purchase from has an ABN, privacy policy or any terms and conditions listed. These can often be found in the footer, and if they're missing (or you find strange results when looking up the ABN), it's likely the website isn't the real deal.
Just like faking websites, scammers can also mimic emails from authentic retailers and brands, so if you get an unfamiliar email in your inbox, be careful. If you haven't signed up for email marketing from that particular seller, don't open it or, if you do, check the email address. Don't click any links from suspicious emails, and if you are interested in something an email has on offer, you can always go straight to the actual website by typing in the address directly (or finding it on Google) to verify if an offer is real or not.
If you're buying from a third-party seller through an online marketplace, take the time to investigate that seller's own page and reviews. If they only just popped up online, it'll likely have very few user reviews. If it's been around for a while, have a read through the reviews to see what people are rating the seller, but keep an eye out for red flags like poor customer service and communication, or if an ordered product never arrived or was not as described. And if you're still not sure, chuck the URL of the seller into Fakespot, or do a Google search for the seller's name to see if other online shoppers have reported the listing.
Be wary of unsolicited text messages
If you've already ordered a product from a retailer or online marketplace, chances are you've had to provide a phone number. If this information has been stolen, then you could start receiving text messages relating to your delivery.
Again, most retailers will not contact you unsolicited, so be wary of these texts. If a text like this is genuine, it will have a retailer name and genuine information about your order for you to help identify it.
Scam messages will usually provide a link to where you can apparently update your delivery information, so do not click on anything you're remotely suspicious about. Another way to identify fake messages is by the language – the English used could be grammatically wrong or there will be spelling mistakes (typos) in the message itself. You can either block those numbers or delete the messages without clicking on anything.
Suspect you've been scammed? Don't panic – here's what to do
It can happen to any of us, but if you think you've fallen for a scam, you'll want to act quickly to minimise the damage that a scammer can cause.
As soon as you're aware of the scam, contact your financial institution or PayPal if you made your payment that way – they have procedures in place to help keep consumers protected in situations like this. Banks will lock down any cards that might have been compromised to stop scammers from taking any more cash out of your account, and PayPal has a comprehensive buyer protection policy, so in most cases you'll be able to get your money back from a fraudulent transaction. It can be a little trickier if you've made a purchase using other methods, but if you get in contact with your financial institution they will generally do what they can to help recover any lost funds.
Additionally, multi-seller marketplace sites also have their own policies in place to help customers who've been taken advantage of by bad actors, like Amazon's A-to-Z Guarantee or eBay's Money Back Guarantee. In some instances, you may need to try and contact the original seller before the site itself will step in, but these guarantees are in place to protect buyers from false products.
If you've been scammed, as a precaution it's also wise to change your passwords for any accounts involved as well. It's possible they've been compromised, so you want to secure any accounts with private or financial information as soon as you can. Setting up additional steps for logging in, such as two-factor authentication, will add an extra layer of security to your accounts, making it even more difficult for scammers to get access to your private information.
If you're worried about your personal information being stolen, take a look at IDCARE, a government funded organisation that will provide support and help if your privacy and identity have been compromised.
Even if you don't fall for a scam, if you come across one it's important to report it to ScamWatch or the ACSC (Australian Cyber Security Centre). Scammers prey on unaware individuals, and by reporting anything suspicious you might just help stop someone else getting scammed. The ACCC (Australian Competition and Consumer Commission) also has more information on scams, including retail ones, as well as links to further resources.
Get the Getprice Newsletter
Sign up to the Getprice Australia newsletter to receive weekly info and alerts