Dyson Pure Cool Link Tower
Overview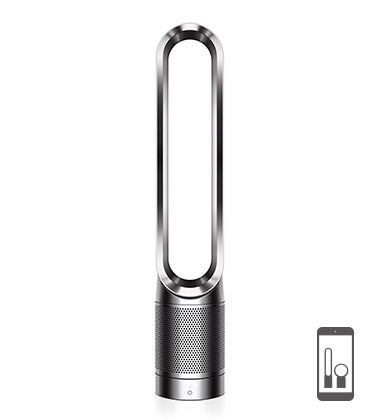 Sorry, this product is currently unavailable.
Product Details
Description
Intelligently minimise allergens and pollutants in your home while simultaneously circulating cool air with the Dyson Pure Cool Link Tower Purifier Fan. Featuring innovative 360 degree glass HEPA filtration and with smart integration to the Dyson Link app, the Dyson Pure Cool Link is a leap forward in air purifier technology.
Intelligent Purification
Advanced Filtration
Designed and developed with a 360 degree Glass HEPA filter, the Dyson Pure Cool Link Tower Purifier Fan is capable of removing up to 99.95% of allergens and pollutants such as pollen, bacteria, and pet dander as small as 0.1 microns in size1. While a layer of activated carbon granules capture any odours or toxins.
Purifies All Year Round
Thanks to its adjustable air speed settings, the Dyson Pure Cool Link is capable of purifying all year round. Paired with Dyson's air multiplier technology, you can take advantage of increased airflow options for extra cooling in summer while the smooth oscillations project and circulate the purified air across the room.
Dyson Link Compatible
Utilising Dyson Link technology, the Dyson Pure Cool Link Fan Purifier automatically purifies, monitors, reacts and sends updates and reports directly to the Dyson Link app on your compatible mobile device. That way, you can always keep an eye on the temperature and humidity environment in your space.
Quiet and Convenient
Smart and considerate, this Dyson air purifier monitors, reacts and purifies even at night, thanks to an automatic night-time mode. This mode uses only the quietest settings and dims the LED display. This purifier has also been awarded the Quiet Mark3 and is certified to be Asthma and Allergy friendly.