Apple Watch 3
Apple Watch Series 3 review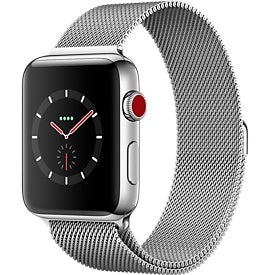 Third time's the charm for the iOS wearable
The third iteration of Apple's smartwatch looks exactly like the Watch 2 (which it replaces), but there's plenty of improvements under the hood that make the Apple Watch Series 3 a more worthwhile wearable. With optional onboard cellular connectivity and improved performance, this version is an easy sell. Add to that the fact that the GPS-only model costs less than what the Watch 2 did at launch and you've got an Apple smartwatch that's at least vaguely affordable.
4G connectivity is why the Apple Watch 3 stands apart from the rest of the smartwatch crowd. Even though you still can't use an Apple Watch without an iPhone, a cellular connection gives the Watch 3 a modicum of independence, giving you access to calls, texts, emails and other important notifications if you're out and about without your phone. What makes that data connection even more worthwhile is Apple Music access.
Call quality just using the watch is surprisingly impressive for such a tiny little device, and the device's speech-to-text capabilities when dictating messages is also near flawless, and the scribble feature (where you draw letters on the screen with your finger) is intuitive and quick.
The fitness aspect is certainly a big part of the Apple Watch's appeal, and with that in mind, Apple's added new features that revolve around living a healthier life – from being able to stay connected when outdoors to improved heart rate monitoring and the addition of apps like Breathe and the GymKit. Plus, there's 16GB of storage on board the LTE model, so there's no excuse to not fill it up with your favourite workout tunes, if you're not using Apple Music.
Verdict: If you're an iPhone user, the Apple Watch Series 3 is by far the most sensible option if you're in the market for a smartwatch, with the 4G-enabled version worth every penny.
Score: 4 out of 5