Chromecast Ultra
Chromecast Ultra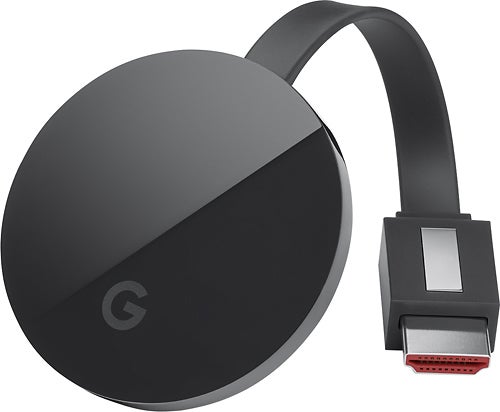 An all-star caster for internet entertainment.
Alongside the launch of the Google Pixel and the Google Pixel XL, Google announced an update to the Chromecast that was for the growing number of consumers making the switch to 4K televisions. Of course the main drawcard of the Chromecast Ultra was the new Ultra HD 3,840 x 2,160 pixel resolution, butt h enew puck actually brings with it a range of other features and a new, more powerful processor. Boasting 1.8 times the speed of its Full HD Chromecast sibling, the new processor also facilitates HDR in both the common HDR10 format and the more intensive premium HDR specification: Dolby Vision (despite there being next to no streaming services put out Dolby Vision content).

The other big feature is the introduction of an Ethernet port. Netflix recommends 25mbps speeds to to stream in UHD and uses somewhere between 7 and 11GB of data per hour which will pru a considerable strain on your home network. By diverting this to an ethernet connection the Chromecast Ultra lets you significantly reduce the load on your WiFi network while not miss out on high resolution content.
There is an abundance of connected streaming services available to the Chromecast Ultra with major local services like Stan, Foxtel Now and all the major catch up services directly baked into the device. There's also a great selection of connected music and podcast entertainment channels on board an for everything else you can simply cast using your Android smartphone or through a Google Chrome web browser. If you happen to have the Google Assistant on you phone or one of Google's Home smart speakers then you can even control the Chromecast Ultra using your voice from anywhere in the house.
The Ultra is powered by a Micro USB cable that uses wall socket or USB type-A connection.
Verdict: The Chromecast Ultra is perhaps the best aftermarket video streaming device available, offering 4K playback at an affordable price.
Score: 5/5