E-M10 Mark III
Olympus OM-D E-M10 Mark III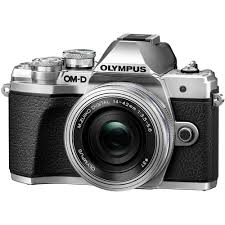 An indispensable travelling companion that's packed full of features
Olympus might be selling the latest iteration of the OM-D E-M10 series camera as an entry-level shooter, but the Mark III is most definitely for those who want more than just a point-and-shoot camera. The addition of 4K video capture, an improved autofocus system, upgraded menu, and minor tweaks to the design make this pocket rocket a worthy mid-level offering. And its affordability means it makes an excellent travel companion.
The Olympus OM-D E-M10 Mark III features the same 16MP micro four thirds sensor that we saw in the Mark II, but gets the latest TruePic VII image processor from Olympus, which improves the camera's low-light performance. The E-M10 Mark III also retains the five-axis in-body image stabilisation (IS) system that worked wonders in the Mark II. Olympus claims this IS system delivers four stops of compensation to reduce image blur in both stills and video. The camera also holds on to the same 2,360,000-dot OLED and the 3.0-inch 1,037,000-dot tilting LCD touchscreen on the back. The biggest upgrade the Mark III boasts of, however, is the addition of 4K video shooting and the 121-point autofocus (AF) system. What's rather interesting is that Olympus has practically overhauled the camera's user interface to make it graphically more pleasing and a lot easier to use.
Olympus has brought over the Live Guide from the PEN cameras to the E-M10 Mark III, adding to the new shooter's ease of use. It gives users the ability to fine-tune their pictures while watching the changes take place in real time on the rear screen. Practically everything from colour adjustments to shooting tips and tricks to make taking photos easy for the beginner is available on the Live Guide. Plus there's the Super Control Panel we saw in the Mark II, an interactive display that adds another level of control.
Verdict: If you go solely by image quality, the E-M10 Mark III is left wanting compared to the higher resolution alternatives like the Fujifilm X-T20, but there's no denying that the little camera is great as a complete package.
Score: 4 out of 5