Fitbit Ionic
Fitbit Ionic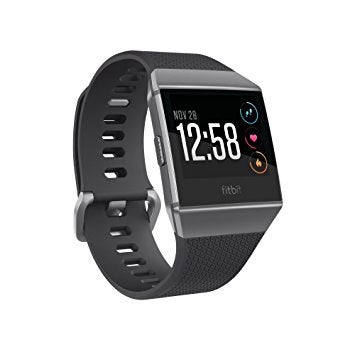 Part smartwatch, all fitness tracker
Thought about an Apple Watch but not convinced you need that much tech? This could be for you. Fitbit's a household name for fitness watches, and its first go at making a watch that's a bit smarter than the rest is one packed with luxuries and innovations. It's certainly eye-catching, with sharp, clean edges, the colour touchscreen bright and easy to read and use, even in direct, bright sunshine.
A single button on the left and two buttons on the right side of the screen act as shortcuts within exercises, though everything can be operated with the touchscreen. Running, swimming, cycling, weights and a general workout option are included, and the GPS will quickly and accurately pick up a signal.
With 2.5GB of flash memory to store mp3s or audiobooks, you can leave your phone at home when you go for a run and pair the Ionic to a set of Bluetooth headphones.
A new 'coach' function brings short workout videos to the screen, and is the best new exercise feature. Each video demonstrates a short routine and while it won't monitor your form to ensure you're performing the exercise correctly, it's a remarkable inclusion.
So too are the built-in oxygen and heart rate monitors that monitor your health and fitness levels. When you're not training, you can use the Ionic as a form of contactless payment, as long as your bank is supported. That list includes ANZ, NAB, Commonwealth Bank and Westpac with a couple of smaller ones too.
You'll see a lot of hardware included here, and it's a lively companion for anyone who wants to go swimming, running, cycling or to the gym. Five days of battery life is excellent, though this can dwindle to as little as ten hours if you use Bluetooth and GPS.

Verdict More fitness tracker than smartwatch, the Fitbit Ionic is a stylish alternative to the Apple Watch crowd though it feels like it needed just a bit more brains to match its brawn.
Score 3.5 / 5