Google Home Mini
Google Home Mini review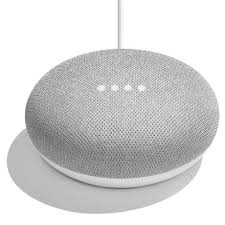 A doughnut-sized smart speaker with plenty of oomph
This roughly doughnut-sized marvel pretty much does everything its bigger brother, Google Home, is capable of, thanks to the integration of Google Assistant, but there are some design and specification differences that potential purchasers should be aware of (even beyond just obvious size distinctions).
The main difference between the two is that the Mini charges via a micro-USB cable, as opposed to the Home's dedicated DC power adapter and plug. The other difference is in sound quality – the Home Mini has just a single 40mm driver for all audio output, making the sound quality slightly anaemic at lower volumes but not too bad when cranked up to 70% or higher. It's capable of filling a room despite the size, though.
The only annoying thing about the Mini are the volume controls. It involves tapping on the left and right edges of the blob, and because the exact spots aren't marked, finding the physical volume controls can be a bit of a hit-and-miss.
Home Mini gives you full control over Assistant-powered features, like adding content to a Chromecast device so you can stream movies and TV shows with an "OK, Google" voice command, or stream music from Spotify or YouTube Red. You can even link smart home accessories like lights that can then be voice-controlled via Google Assistant. You can still get recipes off the internet, catch up on the news, get a rundown on the day's appointments and play the Stranger Things audio adventure game. Home Mini is exactly like its bigger brother, then, just with a smaller speaker and an even smaller price tag.
Verdict: Anyone looking to get into smart home connectivity, the Google Home Mini is a great option, especially given its less-than-budget price tag.
Score: 4 out of 5