HD 450 BTNC
Sennheiser HD 4.50 BTNC review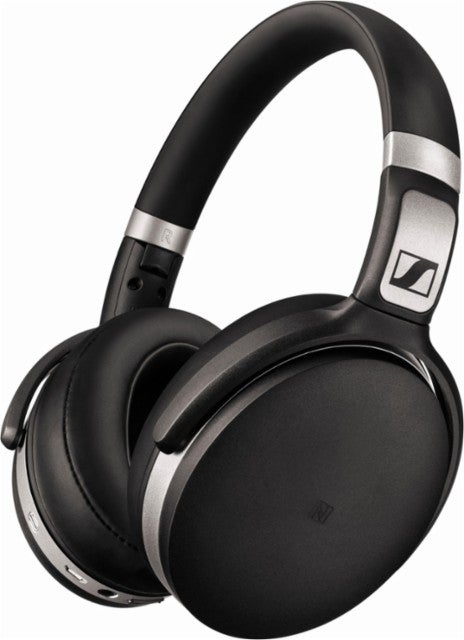 A noise cancelling set of cans for the masses.
For those in the market for an affordable and trusty pair of noise cancelling headphones, the Sennheiser HD 4.50 is hard to pass up. Comparatively cheap when weighed against similar units by Bose and Sony, what you're losing in superfluous style (who cares what your headphones look like?) you're making up for in value and portability.
Because these headphones are pretty light compared to others, weighing in at a mere 238g. The ear cups are fairly narrow too, meaning they'll take up less space in your baggage. On the unit itself you'll find a micro USB slot for charging, as well as a volume slide on the right hand cup. Put the headphones on, and you'll hear a finely balanced stereo sound which, while hardly liable to pump out earth-shaking bass, focuses instead on clarity at both the high- and low-end extremes. In other words, they're high performers for noise cancelling headphones in this price bracket, and the 20 hour battery life is definitely not something to turn one's nose up at.
And the noise cancelling functionality is great as well: worn on an aeroplane, on a busy city street, or in a loud function centre, it's possible to get a moment of quiet wherever you go (or a moment of Skrillex turned all the way up to 12, if you'd prefer). Sennheiser's NoiseGuard noise-cancelling tech wields omnidirectional microphones to detect any unwanted peripheral sound, and then uses electronic technology to block (or "cancel") it out. It all seems like magic but rest assured, it works. These can be snapped up for around the $200 mark these days, so if you're in the market for noise cancelling headphones the HD 4.50s are well worth a look.
Verdict: Affordable, portable and capable, the HD 4.50s are a good first port-of-call in the noise cancelling headphones market.
Score: 4.5