Hero5 Black
GoPro Hero5 Black review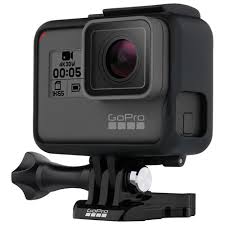 A superhero of a different kind
It took GoPro two years to update its GoPro Hero line of cameras, and it was worth the wait. A touchscreen on the back of a waterproof, weatherproof camera that can record in 4K seems unfeasible, but GoPro did it., and the latest GoPro Hero6 only slightly beats it. There's only one version of the Hero5, as GoPro used to make both Black and Silver editions – no more, it seems. The Black boasts 4K video at 30fps (or 1080p at up to 120fps), as well as a much-needed interactive 2-inch touchscreen. It'll also capture RAW and WDR (wide-dynamic-range) photos at 12MP. Thee touchscreen provides a simplified swipe-based interface so you can reach your video settings much faster, and say goodbye to endless button pushing.
Additionally, the Hero5 still has one-button control up top to quickly start recording footage, and an on/off/mode button on the side to power up and cycle through various ways to capture. You can also now command the Hero5 Black to perform simple tasks using your voice alone, such as telling it to start or stop recording — handy for when you don't have any free hands. What's more, this new model is waterproof up to 10 metres without the need for an extra protective case. You can add a plastic housing to take it deeper, but by default, it's ready for a swim.
It's wonderful to use and hold, with a rather attractive dark-grey matte finish that's slightly rubbery to the touch. It feels much more resilient than any of the company's previous action cameras without its protective case, meaning you'll be more likely to get adventurous with it. .If there's one downside to the Hero5, it's that its battery will still drain relatively fast, recording for a little over 2 hours on a full charge. If you're planning extended shoots, then, you'll want to invest in some spare Li-ion batteries, which can easily be swapped in and out as needed. And given the incredibly high quality footage you're able to capture with this little camera, that shortcoming is hardly worth complaining about.
Verdict A brilliant reinvention of what makes GoPro cameras so desirable. Waterproof without a case for more streamlined adventures.
Score 4.5 out of 5