HTC U11
HTC U11 review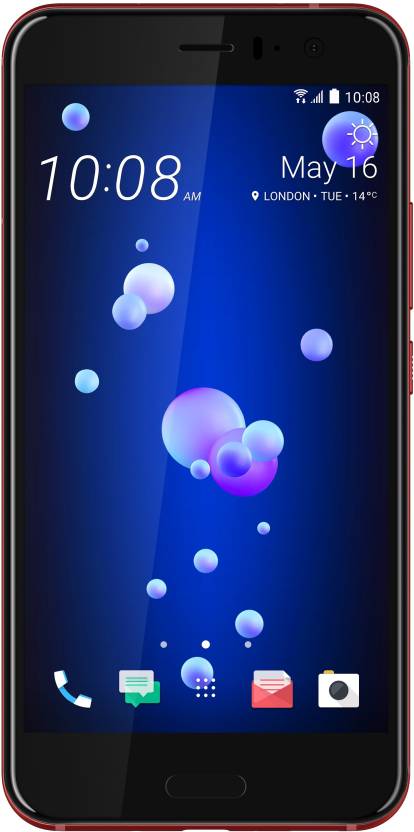 Ex-squeeze the gimmick; this phone's a powerhouse
A lot of attention has been given to one particular feature of smartphone-maker HTC's latest flagship: its 'squeezability'. The U11 has a feature dubbed 'Edge Sense' which effectively allows you to squeeze the lower portion of the phone in order to trigger a user-defined action, such as taking a screenshot or photo. Although you can fine-tune the amount of pressure needed to activate this feature and assign different actions for short and long squeezes, Edge Sense always feels a little awkward and distracts from an otherwise glorious handset.
The aesthetic of the U11 is definitely unique — HTC has moved away from the sleek, simple edges and matte finishes of its previous flagship phones and steered toward overt glamour. Most notably, the rear of the phone is made from rounded glass with an iridescent coat of flashy colour beneath it, creating a striking two-tone effect in an array of colour choices.
From our benchmarks, the U11 seems to be performing in the same ballpark as Samsung's Galaxy S8 in both GPU- and CPU-intensive workouts, which is an impressive feat that belies the phone's flashy facade. This is likely courtesy of the latest Snapdragon 835 processor at the heart of the glitz, making usage both snappy and hitch-free in daily operation. Both the 1440p display and camera perform well, and while the U11 still has a 3,000 mAh battery to power it (the same size as the HTC 10), results from our benchmarks indicate that its longevity doesn't suffer as a result, lasting around 10 hours 45 minutes in PCMark 8's tough Work test.
HTC has paid a lot of attention to its phones' audio performance in the past, and it brings the same treatment to the U11. The included USonic earphones (now with active noise cancelling) offer a calibration-based sound profile that is customised to your ear cavities. This works incredibly well and, in our estimation, makes for the best pair of included headphones available with any smartphone.
Verdict : Despite the flagship feature of HTC's latest handset being somewhat gimmicky, the phone itself is uniquely stylish and competitively powerful.
Score : 4.5 / 5