iPad Pro 12.9
iPad Pro 12.9 (2017) review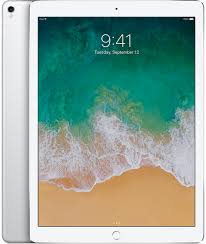 Apple's tablet-cum-laptop is a premium product at a premium price
When does a tablet with a 12.9 inch screen and keyboard compatibility, actually become a laptop? That's the space Apple is trying to fill with thei iPad Pro series, one that Microsoft and several others have found success in. And if you're well-and-truly embedded in the iOS / OSX ecosystem – and if a hybrid machine like this is ideal – then this is the best unit on the market at present.
Boasting a 64-bit A10X chipset, a hexa-core CPU and 12-core GPU, as well as a 10 hours battery life with fast-charging options, the newest iPad Pro boasts the kind of power you'd expect in a laptop. You can even buy models boasting up to 512GB – significantly more than the ye olde 64gb ceiling for iPads. Weighing less than a kilo (677g to be precise), and barely 7mm thin, it's definitely portable, albeit rather wide given the screen's dimensions. The new iOS 11 is a perfect fit for a device like this, with its new focus on multitasking mechanics, and a revamped Control Center which is much easier to use than the older version (it kinda functions like Windows 10's Start menu). Meanwhile, the onscreen keyboard is brilliant, if you decide you've got no need for the Smart Keyboard Cover peripheral.
The Smart Keyboard Cover comes separately, as does the touchscreen compatible Apple Pencil, so if you're in the market for a Pro you'd best try to factor these extra costs in mind. Also, it's worth emphasising for those who may be uncertain: this runs iOS, which also runs on smartphones and other iPads, so don't purchase this thinking you'll be able to run everything available on a Macbook Pro or Macbook Slim. Even so, for power users who require a touchscreen work station – hello, graphic designers – the iPad Pro 12.9 is truly a luxury device.
Verdict: Definitely not an inexpensive machine, but if you've got the money it's the best laptop / tablet hybrid for Apple users.
Score: 4 stars