Jaybird X3
Jaybird X3 review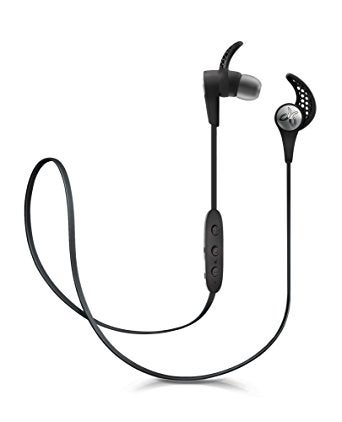 Successor to the throne of sporty in-ears
The appropriately named X3s carry the X2's torch onwards, improving on almost every feature of their predecessor and managing to hit the market at a lower cost while doing so.
The headphones come with a multitude of fitting options, with three different sizes of fins, Comply foam tips and silicone tips, as well as a shirt clip and two cable-shortening clips. This makes the customisation process tedious but you shouldn't have to modify much once you're set up.
A sweat-proof design, lightweight and compact build, and multiple securing methods make the X3s well-suited to the rigours of physical exercise. However, the headphones still suffer from occasional connection loss when in the left pocket, even on a casual stroll — a problem that still plagues many wireless and truly wireless headphones.
The sound quality is exceptional considering the X3s are both inexpensive and wireless, and you can use a five-band EQ to fine-tune the acoustics to your taste via the the free Jaybird MySound app (available on iOS and Android).
Most of the X3's design changes over the X2s are for the better — a smaller profile allows them to fit under helmets and hats, an upgrade to Bluetooth 4.1 provides longer battery-life (8 hours) and the ability to pair two devices, and support for the aforementioned MySound app makes for incredibly malleable sound. Unfortunately the smaller profile means that the X3s now charge with a proprietary charging dock, another piece of paraphernalia to lose.
This really is a fabulous pair of sports earphones on the whole though, and the flaws we've mentioned are comparatively minor for what is otherwise a superb wireless offering at a stellar price-point.
Verdict : If you're after an excellent and durable pair of wireless in-ears for your workout, the X3 is the go, and its adjustable audio is awesome to boot.
Score : 4.5 / 5