Moto G5 Plus
Moto G5 Plus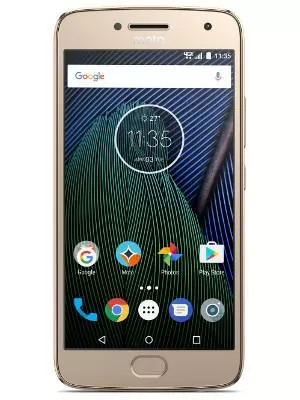 One of the first affordable and worthwhile phablets
Refreshed from top to bottom (and on the inside, too), Motorola's G5 Plus is one of its latest budget flagships — if you're strapped for cash but still want an impressive list of premium features, the G5 Plus is the go.
Available in Australia in 'lunar grey' or 'fine gold', the bezels give off a glossy look and are complemented nicely by the metallic effect on the trim, transitioning into soft, brushed metal on the back which provides a good amount of grip and avoids attracting fingerprints.
Sitting front and center of the G5 Plus is its capable 5.2-inch 1080p LCD. Indoor and out, the IPS display is clearly readable and multimedia is a bit more vibrant than in Moto's previous budget entries.
While the previous iterations came with the Google Now launcher, the new phone's software more closely resembles that of the Google Pixel, and also sports the Google Assistant. But more impressive is the debut of the inventive one-button navigation. To reach the Home screen, you quickly tap the fingerprint scanner once. To look at recent apps, tap and swipe right. Going back is a simple swipe left.
More broadly, the new Snapdragon 625 octa-core SoC and Adreno 506 GPU used by the G5 Plus offer a small, albeit noticeable, speed boost over the G4 Plus. The Australian models come with either a 3GB RAM/16GB ROM configuration available from most retailers, or 4GB RAM/32GB ROM exclusively from the Motorola store. The battery is excellent, lasting longer than advertising and charging rapidly as well.
Along with improved low-light photography with the rear camera, you'll also be able to shoot video in 4K at 30 frames per second, but this doesn't magically turn your footage into Hollywood-caliber gold. While detailed, our results were shaky, slow to focus with colours muddled slightly throughout. There are few places where this phone shows its budget roots and this is one of them.
Verdict : This phone marked a change in perception of the G series — if not for the design, then for inclusions like Google Assistant and other inventive features.
Score : 4.5 / 5