Nikon D850
Nikon D850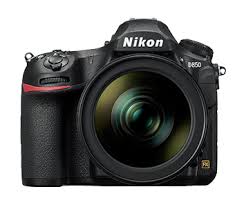 Marriage between high speed and high resolution produces a high performing child.
The D850 is a high-resolution full frame masterpiece that successfully marries a 45.7MP backside-illuminated (BSI) sensor with 7 frames per second (fps) continuous shooting — which can be bumped to 9fps if you use the optional battery grip — for a versatile, all-purpose DSLR that should please any professional photographer. In fact, the BSI sensor — a first for Nikon — has clocked up a score of 100 from DxOMark, the illustrious third-party company that stress tests a camera's sensor using software.
The D850's backlit sensor has been designed without an antialiasing filter, allowing it to capture the finest of details for the sharpest of images with the least amount of noise in any condition. Crop an image all you want and you can still get a great print of any size, thanks to the high resolution. If you're not too keen on the D850's full-res images, there are two reduced size options, 25.6MP and 11.4MP, recording in both RAW and JPEG.
Nikon has taken the autofocus capabilities of the D5, the company's flagship sports camera, and added them to the D850, along with the full range of AF modes. There's a total of 153 autofocus points, 99 of which are the more accurate 'cross' type. Coupled with the latest EXPEED 5 processing engine, the D850 delivers an astounding AF system, even in near darkness, thanks to the AF sensitivity that goes all the way down to -4EV for the central autofocus point.
The D850 can capture up to 170 RAW images at 12-bits and 51 at 14-bits, and shoots 4K video at 30, 25 or 24fps, with a slow-mo mode that can capture at 120fps. If you're familiar with Nikon's DSLRs, the D850 won't be too different, with the exception of the missing pop-up flash. Eliminating that has given the D850 superior weatherproofing. To match its excellent shooting experience, the camera is however very solidly built, with a slightly deeper grip.
Verdict: This is great for anyone with large hands, but for everyone else it can get a tad unwieldy. Body only, it's also a hefty 1kg. If you can deal with the weight and the grip, however, you'll find plenty to be happy about.
Score: 4.5 out of 5