Nintendo Switch
Nintendo Switch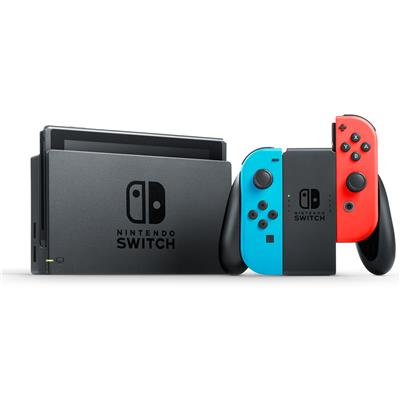 A powerful fun-machine, at home and on the go
Far from resting on its laurels, Nintendo has been more innovative with its console designs (both TV-centric and handheld) than Sony and Microsoft are willing to be, drastically changing both form and function over the decades. The Nintendo Switch is the culmination of both the loungeroom and portable gaming system product lines that Nintendo has perfected over the years, bringing you a console that can be docked and played on your TV at home, or brought out on the road with you.
The switch owes its portability to its beautiful 6.2-inch touchscreen display and the console's modular design. A left and right wireless controller, dubbed the JoyCon, is your main input for controlling the system and can either be held freely or connected to the sides of the tablet-like Switch in portable mode in order to transform it into a more traditional portable console, like the GameBoy Advance. If you're more the type to play your games from the couch, or even standing in your living room, you can place the Switch in its dock and either use the JoyCons or Nintendo's Pro Controller if you're after a more traditional console feel.
Although the on-board storage is limited to 32GB, it's expandable via microSD cards up to 2TB, which will give you plenty of space to install some of the system's stellar titles, and this is where Nintendo really shines. With long-running fan favourites like the Mario and Legend of Zelda universes, you can be sure you'll be in for a heck of an adventure, and a family-friendly one at that. Legend of Zelda Breath of the WIld and Super Mario Odyssey are two five-star examples of Nintendo titles that have dominated the console since its launch. There are plenty of indie titles being brought to the Switch to, and when you can play some side-scrolling 8-bit platformers in portable mode, you'll understand why the Nintendo Switch is such a top-notch console.
Verdict : For those that enjoy gaming on the go as much as they do on their home TV, the Switch offers some seriously fun shenanigans for all ages.
Score : 4 / 5