Surface Book 2
Microsoft Surface Book 2 (13-inch)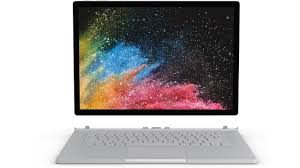 It's singing from the same songbook, but that doesn't make this 2-in-1 sound any less sweet.
Microsoft's original Surface Book is going on a couple of years old now, so it was definitely due for a refresh in terms of what's under the hood — and that's basically what you get with this new model. In fact, at a glance, the Surface Book 2 is nigh-indistinguishable from its predecessor — both 2-in-1s offer a main detachable 13.5-inch (3,000 x 2,000-pixel) tablet alongside a matching keyboard base, which smartly houses a second battery and (optionally) graphics processor, with the latter ostensibly included to help beef-up the machine's multimedia-editing chops.
The Nvidia GeForce GTX 1050 GPU that's in the base means the Surface Book 2's good for a bit of gaming, but what that chip's really intended for is GPU-accelerated media rendering and encoding and, frankly, there are better laptops out there if you're after one primarily for games. That chip combined with the Core i7-8650U CPU in our review unit did help ramp up encoding speeds, giving you about twice the power of what's in say, the Acer Switch 5. And to get anything beefier, you'll generally need to go for a significantly thicker (and, at full tilt, louder) laptop thanks to the greater cooling requirements.
The Book 2's battery life is also admirable, ranging from 7 to 10 hours in our tests — something that's helped along by that second battery underneath the keyboard. Without that, the runtime's cut in half — which is still not bad for a large-screen tablet.
The entry-level Core i5/256GB model costs a fairly reasonable $2,199 — although it doesn't include that Nvidia GPU — with three further models on offer, topping out at the $4,499 Core i7/1TB model. Prospective buyers will also want to note that the Book 2s don't come with a Surface Pen stylus — that'll cost you another $140 on top.
Verdict: An iterative update to Microsoft's best 2-in-1 brings faster hardware to the same classy overall design.
Score: 4/5