Surface Pro 4
Microsoft Surface Pro 4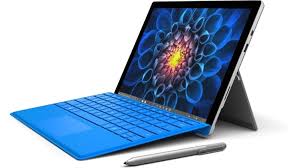 A classic 2-in-1 that's a pro at ageing gracefully.
Microsoft's 2015 'tablet-that-can-replace-you-laptop' is getting on since being superseded by the Surface Pro in late 2017, but the unit received excellent reviews over the past couple of years and actually holds up in performance benchmarks if you're looking for something that's a little less expensive than the new model. The successor to the widely praised Surface Pro 3 introduced the 1024 pressure point stylus and a 12.3-inch Pixelsense display at a 2,736 x 1,824 resolution, making it perfect for advanced visual and creative software users. This 267 pixel-per-inch screen is double that on what you get on a 13-inch Macbook Air and is the same resolution of the updated Surface Pro, so the display system is not dated whatsoever.
While the Intel Core m configuration is likely to be a little underpowered in today's market, the Core i5 and Core i7 models feature lower powered Skylake mobile CPUs that are only 10-20% slower than equivalent 7th generation mobile CPU chips seen in the updated Surface Pro.
Battery life is a little less than you'd hope for getting around 3 hours and 40 minutes in PCMark 8's home battery life benchmark, which will equate to approximately 6 hours of general usage. The Surface Pro 4 comes with a single Type-A USB port, a Thunderbolt
Microsoft Australia don't seem to offer a refurbishing program for the laptops yet so you'll have to try get your hands on one outside the Microsoft umbrella, but there are plenty of vendors still selling the devices.
The Microsoft Surface Pro 4s come with a Pro version of Windows 10, giving you access to the enterprise features of Microsoft's latest OS.
At just 29 x 20 x 0.8cm and weighing just 786g or 1096g including the $199 Surface Pro 4 Type cover, this is more compact than any laptop on the market, with an even greater range of use cases.
Verdict: The Surface Pro 4 offers comparable performance and many of the same features as its successor, but can be scooped up for a considerable discount.
Score: 4.5/5