Vivoactive 3
Garmin Vivoactive 3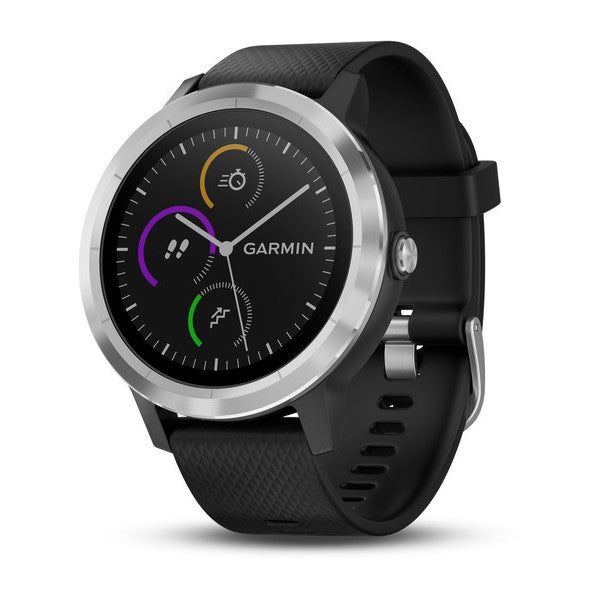 Subtly and suitably smart
The most appealing aspect of Gamrin's mid-range fitness tracker is just how much of a watch it is. That might not seem truly attractive at first – what's the point of a fancy fitness watch if no-one knows it is one?! Look past the round watch face and you'll find that it carries the Garmin bloodline.there's GPS tracking, a suite of built-in apps designed to measure and report back on your running, cycling, swimming, skiing and much more, with an optical heart-rate monitor (HRM) to boot. That HRM keeps a track of your ticker when you're asleep to see just how rested you are, and because the Vivoactive 3 is more svelte than a chunky sportswatch, you'll be thoroughly content to wear it to bed. Pair it with your smartphone and you'll receive (but not be able to reply to) notifications, and automatically upload your activities to the well-made Garmin Connect app. Gamin's app is one of the better ones, and provides a deep dive into your stats - not just the route you took or your speed, but your heart rate, how well you're training, and also how stressed you are throughout the day. That constant heart-rate monitoring is a real encouragement to keep wearing the watch as much as possible.
Battery life, thankfully, keeps up. Expect to get about a week between charges for regular day-to-day use, or 13 hours of constant GPS monitoring. For the casual runner or gym-goer, this is perfect, and if you can make a habit out of charging it once per week you're set. Charging is dead easy, though the USB cord that plugs into the watch has a proprietary connector, so you won't be able to nab a replacement as easily as, say, your mobile phone's if it goes missing. A minor gripe on an otherwise peerless tracker.
Verdict: A truly 24/7 device that works well as a watch and even better as a multi-purpose fitness tracker. Handsome, easy to operate, and good value too.
Score: 4/5