Vivofit 3
Garmin Vivofit 3 review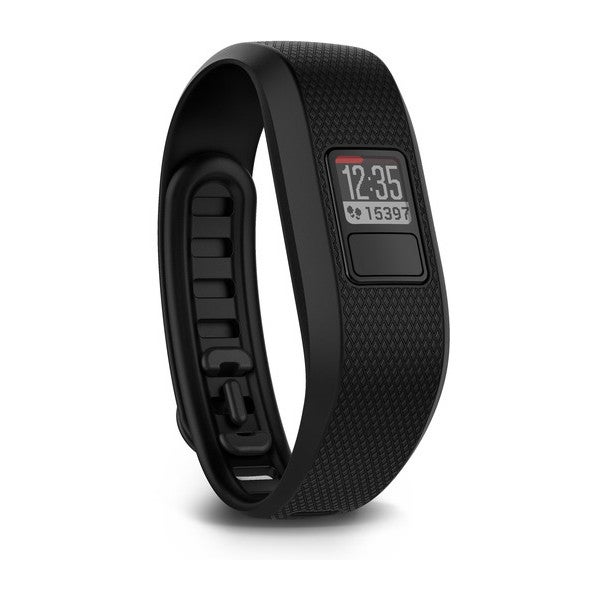 Brilliant battery so you can set and forget
Another gadget usually means another charging cable. Not so for the Vivofit 3, as this this wrist-style tracker uses a replaceable battery that will last for up to a year. It does this as it keeps things very simple with a 64 x 64 pixel backlit LCD and audible alerts to give feedback on different goals. The Vivofit 3 does the usual activity and sleep tracking, but does not have a vibration motor, nor a GPS, instead relying purely on the steps you walk throughout the day to measure calories burned. Once the power eventually wears out, it's a simple job to replace the CR1632 battery. These are a coin-type battery, and are common and cheap, another plus for the Vivofit 3.
The Vivofit 3 is actually housed inside the band and is removable. There are loads of third-party bands and clips available so you can customise it to your liking. It also works as a watch, and is actually rated for swimming. That means you can also wear it in the shower, making it very versatile. On the wrist, the Vivofit 3 is quite chunky, but comfortable, with the rubber strap rarely getting snagged on cuffs or clothing. Operating it is easy, too, with one button located below the screen that you either tap or hold to bring up different screens to view your data. Tracking such as steps were quite accurate, and the audio alert is loud but not annoying. The other half of the tracker is the Garmin Connect app, which is fairly well featured. It went through an update in late 2017 to make it more user friendly and fun to use. Now it's far better than it once was, and any hesitation you might have had about about picking up a Garmin device should be quashed.
Verdict: It might not have the looks of its competitors but it will outlast them 20 times over, and it's a bargain buy.
Score: 3.5 out of 5