Xbox One X
Microsoft Xbox One X review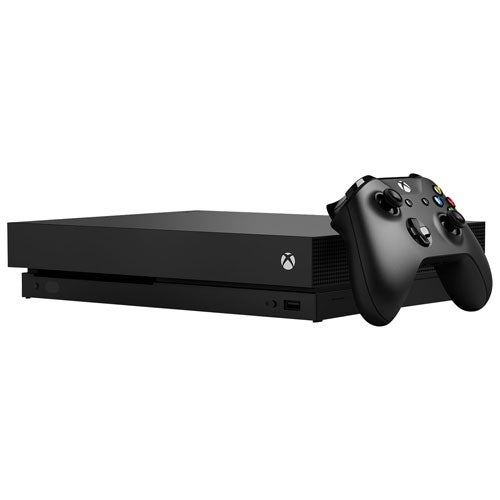 The most powerful console on the market
Following a long period spent lagging behind its rivals in terms of technical prowess, the Xbox One X is Microsoft's attempt to regain that ground. And they've done it: the Xbox One X is a powerful console which dwarves the specifications found in its closest rival, the PlayStation 4 Pro. While its performance naturally varies depending on the title, the Xbox One X is capable of doling out 4K HDR at 60 frames per-second. Better still, it's been found to improve on the Xbox One's existing catalogue (not to mention the Xbox 360 backwards compatible titles) without the need for developer patches.
In the box is an eight-core CPU, 12GB of RAM and a GPU with 6 teraflops of computing power. It boasts a 1TB hard drive, and while that might fill up quickly with the astronomical size of native 4K gaming titles, the Xbox One supports fluid use of USB external hard drives.
The games that benefit from this added horsepower increase by the week, but some of the highlights include Forza Motorsport 7, Rise of the Tomb Raider and Gears of War 4: the last two now run at 60 frames per-second compared to the vanilla Xbox One's 30. Better still, Microsoft hasn't lost sight of its original vision for Xbox to be a media player all-rounder. This box boasts a 4K Blu-ray player, as well as 4k apps for the likes of Amazon, Netflix and YouTube.
But as a games machine, the Xbox One X thrives, especially with new improvements to the console's controller. But if you'd prefer to use a mouse and keyboard, support for those inputs is forthcoming. With Microsoft's Play Anywhere initiative, which allows users to purchase titles which are compatible with both PC and Xbox One, this bodes well for support of titles where mouse and keyboard is preferable. In terms of power and future flexibility, the Xbox One X is a game changer.

Score : 4/5