Zenbook UX310
ASUS Zenbook UX310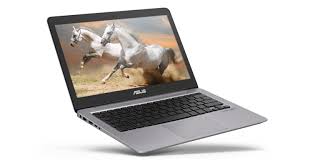 A well priced professional ultrabook.
While the Macbook Air might have seemed like the pinnacle of a reasonably priced lightweight laptop a few years ago, it hasn't received an update in many years allowing PC vendors like ASUS to take a lot of the limelight in this space. A perfect example of this is the ASUS Zenbook UX310, a laptop that focuses on putting quality components in a nicely designed, no-frills package that even uni students can afford.
Coming at 1.4mm thicker than the Air and occupying a 23.3 x 32.3 cm surface area this 13.3-inch form factor is generally available locally with a Full HD display. While the simple black chiclet keyboard and generous trackpad aren't as good as what you'd expect from an Apple laptop, they do a good enough job to not be a deal breaker.
This ultrabook is built around either an Intel Core i5-7200U or a Core i7-7500U dual-core CPU that is lightweight for a 7th generation mobile chip, but which has more than enough power to run demanding professional software. Supporting this processor is a standard 8GB of RAM (recommended amount for Photoshop work) and a generous 512GB M.2 SSD that is connected via the SATA interface for up to 550MB/s read and write speeds (4 times faster than traditional HDDs).
In Cinebench's multi threaded CPU scores of the Core i5 version of ASUS's Zenbook UX310 netts a score of 310, so exactly what you'd expect from a 7th gen dual core CPU. The UX310 doesn't come with a discrete graphics card and the Intel HD Graphics 620 got 4,000 on 3DMark's Cloud gate benchmark, so it's more than capable of demanding photo and video editing.
There is ample connectivity options in the two USB 2.0 ports, the SD card Reader, HDMI, USB 3.0, USB 3.1 Type-C and a combination mic/headphone out 3.5mm audio connection.
Verdict: A solid entry level professional laptop that'll handle most professional demands while not breaking the bank.
Score: 4 out of 5