Ubisoft Assassins Creed Syndicate
Overview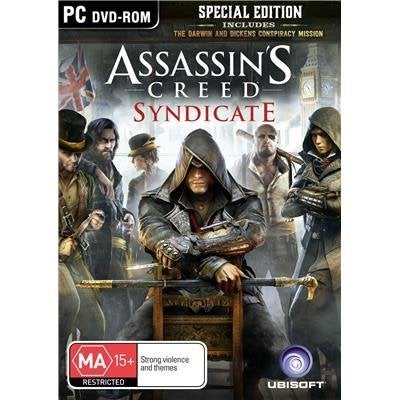 What we think
Victorian London is the star of the show here, and although some old gameplay problems linger, it hasn't been this much fun to wield the hidden blade in years.
Reasons to buy
+ Victorian London is an incredible open-world to explore.
+ Evie and Jacobs relationship and script makes them the best Creed characters for years.
+ The level of oh Ill just do this first makes London a complete distraction-fest.
+ Carriages and the rope launcher add some welcome chaos to proceedings.
Reasons to avoid
- For all of its new content
- the traditional mission styles can feel stale.
Full review at
Read more
Sorry, this product is currently unavailable.
Product Details
Description
Special Edition includes an extra mission: The Darwin and Dickens Conspiracy: Embark on two pulse-quickening missions that will take you into the inner sanctums of London's most influential men. Defend Charles Darwin's discoveries from those who would kill to silence him. And help a friend of legendary writer Charles Dickens keep a secret that could get him killed. London, 1868. The Industrial Revolution unleashes an incredible age of invention, transforming the lives of millions with technologies once thought impossible. Opportunities created during this time period have people rushing to London to engage in this new world. A world no longer controlled by kings, emperors, politicians or religion, but by a new common denominator: money. Introducing Assassin Jacob Frye, who with the help of his twin sister Evie, will change the fate of millions in the upcoming Assassin's Creed Syndicate. Rise to rally and lead the underworld to break the corrupt stranglehold on London in a visceral adventure filled with action, intrigue and brutal combat.
| | |
| --- | --- |
| Type Game | Action Adventure |