Ubisoft Far Cry Primal Special Edition
Overview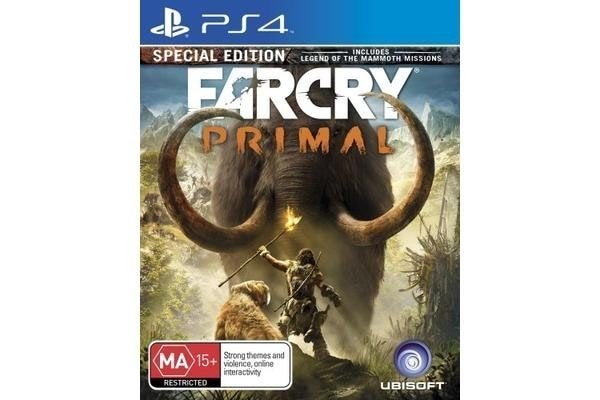 What we think
Primal takes the great structure of the Far Cry series, but little of its character. No clear goal and a limited arsenal end up making this feel a little prehistoric itself.
Reasons to buy
+ The Far Cry template is always good for mindless fun
+ Oros is a beautiful
+ and surprisingly changeable
+ land
+ Training animals is a great sidequest/mechanic
Reasons to avoid
- Lacks a clear focus
- making the whole affair aimless
- Prehistoric inventory is brave
- but limited
- Reduces its weirdest ideas to distractions
Full review at
Read more
Sorry, this product is currently unavailable.
Product Details
Description
Special Edition includes "Legend of the Mammoth" missions: Up to 45 minutes of additional gameplay where the player will have the unique opportunity to play as the largest animal in Oros, the almighty mammoth, and feel the power to stomp its enemies and defend its herd from other beasts and humans. While stocks last. Welcome to the Stone Age, a time of extreme danger. When giant mammoths and sabretooth tigers ruled the Earth, and humanity was at the bottom of the food chain. As the last survivor of your hunting group, you will learn to craft a deadly arsenal, fend off fierce predators, and outsmart enemy tribes to conquer the land of Oros and become the Apex Predator. FROM PREY TO PREDATOR: You will play as Takkar, a seasoned hunter and the last surviving member of your group. You have one goal: survival in a world where you are the prey. Grow your tribe and hone your skills to lead your people. Encounter a cast of memorable characters who can help push back the dangers of the wild. Face enemy tribes who will do anything to eradicate you and your allies. Defeat predators and humans alike and rise to become the apex predator. THIS IS FAR CRY'S STONE AGE: This isn't the Stone Age as you know it. This is the Stone Age with irreverence and mayhem. This is Far Cry's Stone Age. Stalk enemy outposts and plan your attack using weapons and tools crafted from the bones of beasts you've killed. Master the element of fire to expand your tactical options, setting your weapon on fire or scaring predators at night. Land the killing blow on the prey you've hunted across the plains. But beware, its scent may attract predators willing to fight you for the prize. The rich setting of the Stone Age only multiplies the amount of deadly weapons, dangerous threats, and incredible stories that Far Cry is known for. A WORLD RULED BY GIANT BEASTS: After the last Ice Age, the glaciers retreated to leave behind a land blooming with nature and resources