Samsung's new AI-powered laundry range aims to reduce your ecological footprint
We take Samsung's new Bespoke AI laundry range for a spin to see how its eco-conscious features work in the real world.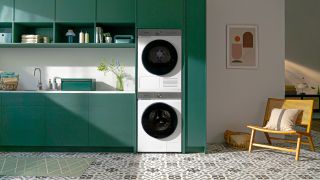 (Image credit: Samsung)
Artificial intelligence (or AI as it's more commonly referred to) has been the cause of much debate recently due to the ethics surrounding its use in content creation, among other reasons.
Thankfully, there are some areas in which the technology is undeniably being used for the betterment of humankind, and Samsung's new Bespoke AI Smart Laundry range is a testament to that.
We recently spent some time testing out Samsung's latest smart washer and dryer products to find out how the power of AI, combined with other thoughtful design choices, can have a positive impact on the environment.
Eco-friendly AI
For many of us, it's easy to fall into a 'set and forget' mentality when it comes to doing laundry, but the truth is that this approach often leads to using more water and electricity than is necessary.
In an effort to combat this, Samsung's new Bespoke Front Load Washer offers a special AI Wash mode to accurately determine just how much water and detergent your load of washing actually requires, along with the appropriate amount of wash time.
In order to do this, the Bespoke AI Front Load Washer uses an Auto Dispense feature that continually dispenses the right amount of detergent and fabric softener needed throughout your cycle. According to Samsung, it does this by "automatically sensing fabric type and soil levels" in order to figure out how thoroughly your clothes need to be washed.
Samsung also says that the machine "holds enough detergent for up to one month (or 32 loads), so you don't need to refill the tank each time".
To test this out, our first load was comprised of already-washed clothes that included jeans, cargo pants and a few shirts.
As the Bespoke AI Front Load Washer is a smart device that's connected to Wi-Fi, we opted to control it via Samsung's SmartThings app. Of course, you can activate this mode or a number of other cycles on the machine itself.
Wash time
Upon launching the AI Wash mode, our machine estimated that this particular load would take around 1 hour and 27 minutes – this seemed unlikely, but we figured we'd use it anyway and see what happened.
Within 15 minutes of sitting down to watch some YouTube clips on The Frame TV provided by Samsung to accompany this washing experience, a notification appeared on the telly informing us that our cycle was complete. Clearly the Washer realised the clothes didn't actually need much washing and adjusted the wash time accordingly.
Not only was this a clever demonstration of Samsung's connected ecosystem, it was also an indicator that the Bespoke AI Front Load Washer can indeed tell the difference between clean and dirty clothes.
Of course, the only way to determine this for sure is to compare wash times with a load of clothes that actually needs washing. Luckily, we had a pre-soiled load (ew!) on hand.
Once again, the AI Wash setting offered an estimated runtime of 1 hour and 27 minutes, so we settled in to watch some more TV. This time, however, it took around 45 minutes for our "Cycle complete" notification to pop up. OK, we're convinced – now it's time to dry the clothes.
Dryer learning
Like the Washer detailed above, Samsung's Bespoke AI Dryer offers an equivalent AI Dry mode that will automatically adjust the machine's runtine depending on the temperature and humidity of your clothes.
In this instance, the AI Dry mode in the SmartThings app already knew that we'd just completed a wash and anticipated a recommended cycle setting to use. This is due to an Auto Cycle Link feature that both the Washer and Dryer share.
While it's easy enough to select both AI Wash and AI Dry in the app, Samsung suggests the feature would be quite handy with more specific cycle modes for things like towels, in that the dryer would know to "make them dry and fluffy automatically," although we didn't get a chance to try that.
Going back to AI Dry mode, the machine once again estimated a dry time of 1 hour and 27 minutes (we're starting to sense a pattern here), and this time around, the estimate was fairly close to reality at around 1 hour and 10 minutes.
Thankfully, Samsung's Bespoke AI Dryer is incredibly energy efficient, boasting an impressive 9-star energy rating that's only beaten by a handful of 10-star options from Miele and Bosch.
Samsung's machine is able to achieve this by employing Digital Inverter Compressor technology to heat the air rather than electricity. Additionally, it also sports a Hygiene Care+ cycle that uses steam to blast out up to 99.9% of bacteria, mites and allergens at temperatures of 60°C and above.
Using bubbles to combat microplastics
On top of all this, Samsung's new Bespoke AI Front Load Washer sports a new Less Microfiber Filter (don't expect an award for that name, Samsung), which was developed with support from OceanWise (an Australian ecological agency) and Patagonia (the American outdoor clothing brand) to reduce microplastic pollution in our waterways.
The first part of the process involves the washing machine's BubbleWash feature and EcoBubble technology, which turns detergent into bubbles that can be absorbed more readily by your clothing at lower temperatures. This not only results in a more energy-efficient clean, but also less abrasion in your wash, which is said to reduce microplastic emissions by around 54%.
Next, the Less Microfiber Filter uses blades to capture, redirect and compress microplastics. Samsung says that the filter itself "only needs to be cleaned roughly once a month." As you'd expect, Samsung's SmartThings app will keep track of the filter, letting you know when cleaning is required.
By using AI to wash and dry more efficiently, implementing smart new technologies for more environmentally friendly cycles, and developing new filters that reduce microplastic emissions, it's clear that Samsung's new Bespoke AI Washer and Dryer have been designed with our planet in mind.
If reducing your ecological footprint is important to you (and it very well should be), you may want to consider updating your laundry with devices like these.
Get the Getprice Newsletter
Sign up to the Getprice Australia newsletter to receive weekly info and alerts