The Breville InFizz Fusion has changed the way I enjoy my drinks – for the better
Carbonating any cold beverage is a game changer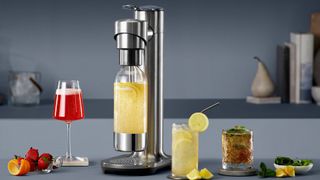 (Image credit: Breville)
I've been a fan of the SodaStream sparkling water makers for a long time now, but what if you could carbonate more than just water?
Well, you can. Breville has just launched its new InFizz Fusion – its first ever sparkling beverage maker – just in time for the Aussie summer.
It's a SodaStream alternative that carbonates more than just water and looks better than any of the SodaStream machines currently available. The InFizz Fusion can fizz up juices, iced teas, wine, cocktails, flat sodas like Coke and Pepsi... basically any drinkable liquid that's not hot.
It allows you to get a bit more creative than a SodaStream – you can, of course, purchase flavourings to come up with your own signature beverages, but I was thoroughly impressed with how well it handled wine and orange juice.
Sparkling summer drinks
I was lucky enough to try out the InFizz Fusion ahead of the official launch and I decided I would try carbonating anything and everything I could think of, and that included a bottle of rosé wine and some orange juice.
While I wouldn't recommend fizzy orange juice – it's really not that great with carbonation – lightly fizzed apple, pear and watermelon juices are delicious! I also fizzed up some coconut water and I am as yet undecided whether that was a good idea or not.
The wine was excellent! You can now make your own sparkling wine. In my case, I added a hint of carbonation to a bottle of rosé and added more fizz to a bottle of Lambrusco. The latter is already lightly carbonated and can be sweet – adding more fizz brings out the flavours and makes it sweeter, which is quite refreshing on a hot summer afternoon or evening. Throw in a few slices of fresh fruit and, voila, you've got a delicious sangria to serve your guests.
Getting fizzy this summer
Like most Breville kitchen appliances, the InFizz Fusion has a sleek, open design that will look good on any kitchen benchtop or home bar. It features a diecast lever on the top that looks like a kitchen faucet, but in a good way, and gentle pressure is enough to release the carbon dioxide gas into your chosen beverage.
Speaking of which: it uses standard 60L SodaStream screw-type gas canisters, so you can easily get them refilled or replaced from supermarkets, petrol stations and select retailers. Note that the InFizz Fusion does not ship with the gas cylinder when you purchase – you will need to get your first one separately.
What you do get in the box with the InFizz Fusion is a plastic 1L bottle that can be fitted to and released from the beverage maker by a simple twist-and-tilt mechanism. The bottle has a detachable stainless steel base that adds structure and supports the plastic, while also completing the style aesthetic.
The InFizz Fusion's most important component, however, is what Breville calls the FusionCap. This screws onto the top of the bottle to attach to the machine itself and has been designed to prevent any overflows when you open the bottle after fizzing up a beverage.
Also in the box will be a long-handled cleaning brush, a strainer and a funnel – all of which you're going to find quite handy.
The Breville InFizz Fusion will set you back $299 and is available to purchase directly from Breville as well from select retailers now.
Alongside the InFizz Fusion, Breville has also launched the InFizz Aqua that carbonates only water, just like a SodaStream. This will set you back $249 and doesn't feature the FusionCap as the possibilities of an overflow with just water are slimmer in comparison.
You can purchase additional bottles separately for both beverage makers, with a 2-pack of 600ml bottles priced at $39.95 and a 2-pack of 1L bottles costing $49.95.
Get the Getprice Newsletter
Sign up to the Getprice Australia newsletter to receive weekly info and alerts