Cricut: everything you need to know about the popular crafting machines
We (Cri)cut through the jargon to help you become a crafting extraordinaire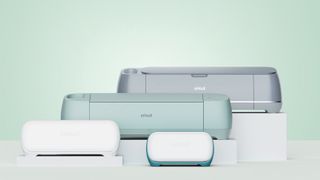 (Image credit: Cricut)
The most casual crafter knows how tedious it can be to spend hours cutting out an intricate design. Even with tools like knives, scissors or rotary blades, making tiny little cuts can extend the length of a project, especially if you have to repeat the process over and over again for things like invitations, stickers or cards.
Thankfully, Cricut has made that process a whole lot faster and simpler with its range of smart cutting machines. Smart cutting machines aren't new, but Cricut has a range of affordable options to suit any project. Both hobbyists and small businesses alike can benefit from having a Cricut machine at hand, but you'll need to know the difference between the machines and what they do before you part with your hard-earned cash so you can get exactly what you need.
What is a Cricut machine?
They might look like printers, but a Cricut machine serves a very different purpose. Primarily a smart cutting machine, a Cricut has the ability to cut a variety of materials including paper, vinyl and even felt. However, if you've got the right attachments, you can also get your Cricut to write delicate messages in fancy fonts or score straight lines in cardstock for the perfect fold.
Cricuts can be used for a wide range of projects outside of typical paper crafts. With a selection of vinyl and materials at your disposal, you can use a Cricut machine to cut out designs for bottles, glasses, mugs, T-shirts, tote bags, hats and more. The most powerful Cricut machine can even cut into softwoods and chipboard, so you can use it to create home decor pieces and designs that need to be a little more sturdy than standard cardstock.
How does a Cricut machine work?
Once you've got your Cricut machine set up, you'll need to download the Cricut Design Space app. This app will allow you to come up with your own designs or download other user-created designs, and also adjust settings for your Cricut machine so you can accurately cut, draw or score your chosen material.
If you're ever stuck for a project, Cricut has a selection of them available through the app. While there are over 1,000 images and 15 fonts to choose from with a free Cricut account, there is also a subscription service called Cricut Access that will allow you to select from many more designs and fonts for $13.99 per month or $140 a year.
You'll need to make adjustments in the app so your machine properly cuts through, scores or draws on whatever material you're using. There's presets for different Cricut materials already available on the app, but if you use something not from the Cricut line, such as other brands of cardstock or felt, you might need to do a few test runs with different settings before getting it right.
Each Cricut uses a mat with a sticky adhesive that holds down the materials while the machine does the work, though you can cut Smart Materials without one with all the latest Cricut machines. Once you've got everything set up in the app, you simply print out any designs using a standard printer, stick your materials on the mat good-side up, and place the mat into the opening of the machine. From there, you can relax while the machine does its job, and all you'll have to do is peel it off once it's done, and put your project together.
There's a wide range of tools and accessories to use alongside your Cricut machine, including press irons to help adhere designs onto fabrics and even one to press designs onto mugs. You can also pick up tools to help remove stickers or smooth out bubbles when adhering vinyl onto different surfaces. You'll want to consider which attachments you'll need before starting a project and purchasing a Cricut machine, as not all machines are compatible with all attachments.
Types of Cricut machines
The latest generation of Cricut machines includes four different models, each with their own benefits and abilities. Finding the right machine really depends on what you want to use it for, how much space you have and your budget, as the larger machines can cost you a pretty penny if you don't find them on sale.
You'll also need to consider the ongoing costs of materials and any extra tools you'll need for your projects, so getting the right machine from the start can save you a lot of hassle and money in the long run.
Cricut Maker 3 – the one with all the bells and whistles
RRP: $699
If you want one machine to tackle any and all projects, then the Cricut Maker 3 is the one you need. It's the most expensive out of the current crop of Cricut machines and for good reason – it does it all. From cutting to calligraphy, foil transfers to engraving, almost every craft is doable with the Cricut Maker 3.
Having the ability to be used with over 300 different materials, it's a dream for any small business making its own crafts, or the serious hobbyist who likes to take on new challenges but needs a little bit of extra help. There's a massive selection of attachments including rotary blades, pens and markers, and even an engraving tip and scoring wheel.
You can use Cricut's Smart Materials without the cutting mat with this machine, which allows the Maker 3 to make a single cut up to 12 feet in length with an 11.7-inch width. It's a pretty impressive feat that's handy for when you have larger projects.
The design of the machine allows for a roller to be attached to tackle those huge projects, and even has a little built-in cubby and tray to store any tools and attachments with the machine.
Cricut Explore 3 – midrange price with all the basic functions
RRP: $499
As the middle child of Cricut range, the Cricut Explore 3 can't quite do everything the Maker 3 does, but it is significantly cheaper. If you're looking for a standard machine to cut up large designs on vinyls and cardstock, and don't need the portability offered by the Cricut Joy range, the Cricut Explore is the machine you're after.
Like the Maker 3, you don't need a mat when cutting Smart Materials, so you can get up to 12 feet in a single cut. The Explore 3 can also score cards and transfer delicate foil designs with the right tools, but you won't be able to cut into any wood with this one.
The Cricut Explore 3 also comes with inbuilt storage for any accessories you'll want to keep with it, and it supports the same 11.7 inch x 12 feet single cut dimensions as the Cricut Maker 3, so it's a more affordable option if you don't need all the bells and whistles of the premium machine.
Cricut Joy Xtra – the latest compact Cricut
RRP: $429
As the latest from Cricut, the Cricut Joy Xtra builds on the portability of the Cricut Joy and adds a few handy features that were missing from its predecessor (listed below). For starters, it's a little bigger than the Joy, so you can feed in a standard A4 size page. This makes it a bit simpler than the Cricut Joy, as you won't have to mess around with settings or cut up a design before feeding it through the Joy Xtra.
Despite being larger, it's still a super compact machine. It also has an Easy Printables sensor built in, so it can detect designs and cut around them with ease, another feature missing from the cheaper model.
It will only cut up to 4 feet in length, and without a cutting mat for compatible Smart Materials, so while you won't be cutting out large designs for banners in one go with it, it's a great option for birthday party decor, and smaller designs and projects for around the house.
Note: Currently, the Cricut Joy Xtra is only available in the bundle option from Harvey Norman, though from October it'll be available from other retailers as well.
Cricut Joy – a casual hobbyist's delight
RRP: $349
Compact, portable and stylish, the Cricut Joy is the smallest in the current Cricut lineup. Sporting a stylish cyan blue colour scheme, it's been designed so you can cut out your projects in cramped working spaces.
Out of all the machines, it offers the least feature set when it comes to functionality, only being compatible for cutting vinyls, ironing material, paper and cardstock, but it can still write using pens and markers to put messages on projects.
On the plus side, limited functions means it comes in at a much lower price. So if you are looking for something small to cut out designs up to 4 feet in length with 4.5 inch width, the Cricut Joy is your go-to.
Get the Getprice Newsletter
Sign up to the Getprice Australia newsletter to receive weekly info and alerts